Un-Random Return
Peregrine Falcons have returned to Harrisburg - take a look at the webcam:
http://www.dep.state.pa.us/dep/falcon/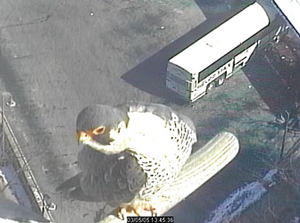 It's neat to watch the falcon parents care for the eggs and wondering when they will hatch. Then it's a nervous time wondering if the hatchlings will survive and learn to fly and hunt (plenty of pigeons around, and I wonder if they go after all those seagulls that are around, too?)
Shifting gears, somewhat randomly:
Elvish
To which race of Middle Earth do you belong?
brought to you by
Quizilla