Tibbar Tibbar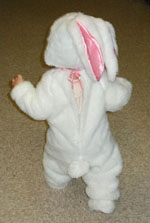 This morning I had to run out to get some milk before the girls got up for breakfast, so I got in the van to go to the little 24-hour place that's about four or five blocks away. (It was still black outside and 40 degrees.)
I was a block away when suddenly a rabbit jumped out from between the parked cars. I immediately took my foot off the brake.
Instead of either running clear across the road or doubling back the way it came, the rabbit bounded straight down the middle of the street, away from me. So there I was, rolling slowly forward, with the white cottonball tail of a rabbit bouncing in my headlights for half a block. It was almost hypnotizing, that bouncing white ball.
Finally, it did jump off the road, back in the direction it had originally come. Dumb bunny!
(this photo ain't representational, but I thought it was cute.)