A Confession
Okay, I've got something to confess.
I'm an
American Idol
watcher.
Yup. Haven't missed a show all season.
Mind you, I must tell you that I've never done this before. Sure, I saw some of those audtions in earlier years . . . they are hilarious!
But for some reason, I got caught up in this season. Have voted early and often for contestants.
And now, since I've invested so much into this, I thought that I might as well use it for some blog fodder.
First, the judges: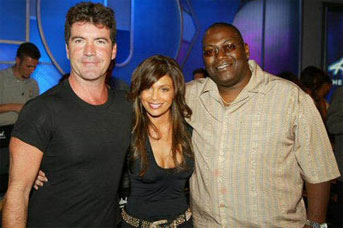 Simon may be harsh, but I think that his opinions are usually correct. I'm tired of everyone booing him so often, and I think that the tit-for-tat that he and Ryan Seacrest engage in is stupid. If it's done on purpose, then they should stop it. If they're doing it because they really don't like each other, then they need to grow up. Especially Seacrest. Paula is a waste of breath. She "loves" every one of the contestants. (this photo is from here.) I don't remember her ever really giving constructive advice to anyone. As for Randy - he really needs to learn new lines, because his script is limited to "check it out!" and "what's up dawg".

Each week the contestants are given an assignment - last week it was to sing a country song, and last night it was to sing a Queen song.

And now for the final eight:


Ace: His singing is just okay for me - there are moments when he's good, but he's just not on par with the rest of the contestants when it was down to the final 12. I personally think that he's still there because he's good-looking to many. He sang "We Will Rock You" last night and I thought it was pretty bad.
Bucky: I think he can sing the right song really well, but mostly he hasn't picked the right songs. Also, it's frequently hard to understand what he's singing - he needs to articulate better. Seems like a really nice guy. He sang "Fat Bottom Girls" and made it into a country song. Country is his style, and he did okay with it, but not great.
Kellie: As time goes on, she has really grown on me. I think she's been improving as time goes on. Poor girl needs some education - Simon is always baffling her with words and phrases that she's never heard before. For example, last night she sang "Bohemian Rhapsody" (I think she did a good job with it) and Simon said (I'm paraphrasing somewhat here) that "on paper, it looked like it was going to be a disaster" and she said "what? on paper?" To boot, Kellie said that she had a hard time understanding Simon's British accent. He replied that he had a hard time with her accent. THEN she said that she didn't have an accent. I hope that she was joking ~ Kellie's southern accent is pretty darn thick! I think she'll make it to the end.



Katharine: She does indeed have a great voice, but I haven't cared for her song choices the last two or three weeks. I think that perhaps Broadway might be a better venue than Idol. She sang "Who Wants to Live Forever" (from The Highlander movie) fine, but it didn't move me.



Elliot: The guy is a bit awkward and physically doesn't seem to have enough rhythm to move well while he sings, but I do think he's got a great voice. He's growing on me. Last night he sang "Find Somebody to Love" very well.

Chris: I like his family story. He married a woman with kids from a previous relationship, and has been a great husband and dad to them. That means alot to me. His voice is GREAT. He's into a harder rock style than the rest of the contestants, and sometimes his song choice or rendition doesn't please everyone. But he's been true to himself and has done a great job with all the songs. Last night he sang "Innuendo", which I don't think I've ever heard before. Turns out that Queen never sang that song live ... Anyway, I think he'll make it to the end.
Paris: The youngest of the contestants left - she's only 17. She does indeed have a powerhouse voice - no doubt that the girl has a future in the music business. She's been all over the place in song choice and appearance. That's youth and there's nothing wrong with that - but I guess that I would rather see an older person get the final prize because she's got so much more time and maturing to do yet. She sang "The Show Must Go On" last night pretty well. It was strange to see such a young woman dressed up and singing so seriously, however.
Taylor: the crazy Taylor Hicks is my and Nod's favorite. His voice was described as "whiskey tenor". He dances all over the place (or at least, that's what he calls it, it's wacky). He is so fun to watch, and entertaining. Last night he sang "Crazy Little Thing Called Love", which was right up his alley. Last week's "Country Roads" really wasn't a good song choice for him, and Nod and I were nervous that he wouldn't get the votes to stay. He's the oldest of the contestants, barely making the age requirements. I don't think that he'll end up the American Idol in the end, but it's great to watch him week after week.

Tonight we'll find out who's going home. I voted for Taylor about ten times, and about five times for Kellie, Chris and Elliot.