Second Posting ... all while a kitty sleeps on my arms...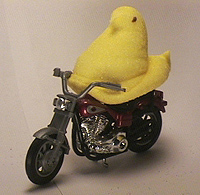 Ahhh ... Peeps. Who can resist 'em? (I don't care if you can, I can't) . Take a look at where they are made,
Just Born
, right here in Pennsylvania. And now you can get Peeps Gear!!
I need to get out more often, don't I?