New Header (again)
Well, got a little restless ~ so much blog re-working going on 'round here! Was looking thru some old images and found one I still like.
It's not really a dragon, 'tho it certainly has wings that are normally on dragons. That is, bat-type wings. Otherwise, it's a horse. Usually horses are given bird-type wings, and that certainly does make fore a beautiful image. However, it does make more sense that if one mammal - a bat - has a certain kind of wing, then another mammal would have a similiar wing structure.
Usually dragons are pictured as four legged and a pair of wings. Others, sometimes called
wyverns
, are formed more like birds, with two hind legs and then the leathery wings where the forelimbs would be. Sometimes I've seen these two-legged types with two forelegs and then a pair of wings further back, and a long, strong tail.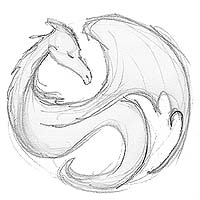 And then there's this image, without any legs at all. I used a version of this as my film production logo when I was at
CalArts
.
I'm not really satisfied with my blog's new header. So y'all may see a new one in a few days.